As I mentioned in my last post, our group has started to use a homebrew D&D that has four inspirations/motivations behind it: 1) a pretty simple system where the rules are not burdensome or even all that important (more rulings than rules and a system that I would be comfortable completing winging it with); 2) a system that incorporates my experiences with D&D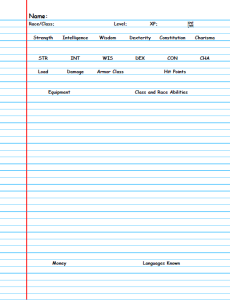 (particularly my experiences from "back in the day"); 3) a system that fits my particular group of ratlings, er, players (most of whom didn't start playing until the d20 version of D&D); and, 4) a system that lets us use a character sheet as simple as the one to the right (based on the Notebook character sheet for Basic Fantasy RPG). To be honest, it was this last one that was the initial impetus for all this.
The result is a set of three little 5.5″ by 8.5″ booklets…did I mention that an homage to the roots of this little hobby as a motivation? No, well, it is just a bit of an added bonus. The first booklet, Rats & Ratlings, is 23 pages and contains all the core rules including classes, races, equipment, combat, and exploration. The second, Gods & Gophers, has the divine spells used by clerics (clocking in at 19 pages). The third, Mice & Magic, has–as you might have guessed–the arcane spells used by magi (clocking in at a whopping 36 pages). And yes, we got cute with the names of the booklets, alliteration, and the rodent motif for out gaming group.